HAPPY CATURDAY!!!!!
Today we're having a Kool Seniors Kitty Club Reunion!!!
Look at all the handsome and
gorgeous seniors that are blogging!!!!
Each collage is in alphabetic order.
The collages are in the order that
the badges were made.
If you're a senior and haven't
joined, click on the appropriate tab
under our header for more information.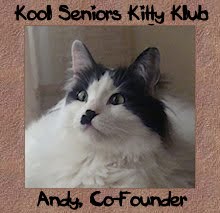 Please click on collages to enlarge.
Collage 1
Collage 2
Collage 3
Collage 4
How kool are they!!!!!!!!!!!
If we counted correctly, that's 63 of the koolest senior kitties!!!!!!

If you applied for a badge and it appears here, but you never
received it, please leave a comment letting us know and
we will remail it.......some have ended up in spam files.
XXXXXXX
Please visit our other blogs:
Cute Critters
and
Say What??